---
The Langley Weavers' and Spinners' Guild was formed in 1971 under the sponsorship of the Langley Arts Council. Through the support of the Guild our members promote our craft, educate ourselves and each other, and encourage others to keep the art and craft of spinning, weaving, dyeing, felting and knitting alive and thriving.
The objectives of the Guild are:
To go out into the community to promote our art by demonstrating or giving workshops or exhibiting our work.
To provide opportunities to members to share knowledge, skills and ideas to further their artistic endeavors.
To maintain an extensive library, which can be accessed by members, containing material related to all fibre arts promoted by the guild.
To maintain a scholarship fund available to members to encourage the pursuit of their art.
***COVID 19 UPDATE***
We are planning our first in-person meeting this September on Tuesday the 21st, 2021! Please join us at 7:30pm at the Sharon United Church in Langley for a night of fellowship and Show and Tell!
We are also busy planning our 2021 Artisans' Sale!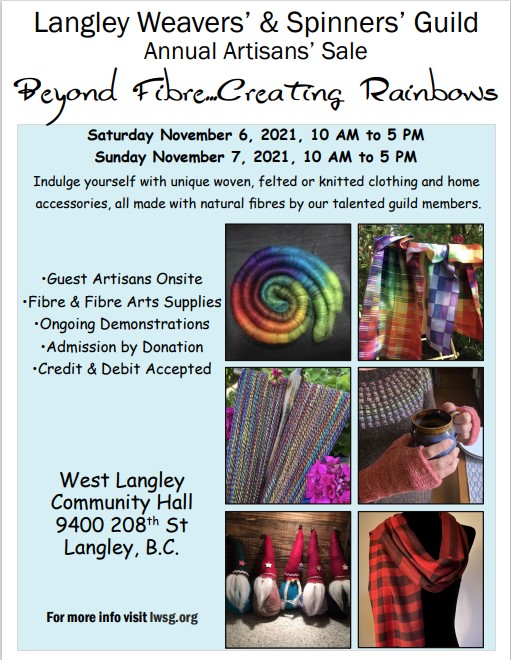 The Langley Weavers' and Spinners' Guild meets every third Tuesday of the month except for July, August and December. New members are welcome, you don't need to know how to spin or weave in order to be member. We are teaching guild. All levels of experience are embraced.
Our Library opens at 7:00 pm and the General Meeting starts at 7:30 pm.
Meeting Place
United Churches of Langley, Murrayville
21562 Old Yale Road
(48th and 216th Street)
Langley, British Columbia
Mailing Address
Langley Weavers and Spinners Guild
P.O. Box 349, STN Milner
Langley, BC V2Y 0W9